Carrollton alumna continues to serve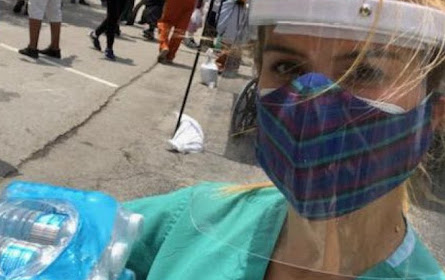 /p>
Dr. Natalia Echeverri '03, an OBGYN, has been helping those most vulnerable to COVID-19, while still taking care of her patients. 
Natalia Echeverri was born in Columbia, but at a young age immigrated to the US. She grew up in Miami and attended Carrollton School of the Sacred Heart. Her interest in medicine began during high school in her biology class with Mr. Crockwell. Dr. Echeverri wrote, "Carrollton gave me the building blocks in biology, chemistry and physics that I needed in order to succeed in college in my pre-med classes."
After graduating from Carrollton in 2003, she earned a bachelors in biology and a masters in International Administration with a concentration on Public Health from the University of Miami. Dr. Echeverri then attended medical school at the Herbert Wertheim College of Medicine at Florida International University. The last phase of her twelve year journey to become an OBGYN was to do her residency in Obstetrics and Gynecology at Jackson Memorial Hospital.
Dr. Echeverri became the Distinct XII Chair for the American College of Obstetrics and Gynecology and presented her research on genetics and minimally invasive surgical techniques at various national conferences. One of her many achievements includes receiving the John Ford Award which is awarded for excellence in performance in gynecology. Dr. Echeverri also received the Society of Laparoendoscopic Surgeons Resident Achievement Award for her outstanding minimally invasive surgical skills.
Dr. Echeverri is one of the founding members of the Mammography Art Initiative – a yearly fundraiser to provide mammograms to women who cannot afford them. She also received a grant from the Hearing the Ovarian Cancer Whisper foundation, to work next to gynecologist oncologists.
In her many years as an OBGYN, Dr. Echeverri said that one of her most memorable moments was when she got the opportunity to be a part of a multidisciplinary team that took care of a high risk patient with multiple complications at Jackson Memorial Hospital. "We took care of her for months and in the end were able to save her and her baby's life. I became very close to the family, so close that the mother named her baby after me, Natalia."
Dr. Echeverri has, since the pandemic began, dedicated time to aiding Miami's homeless population by sewing and distributing homemade masks, providing them with COVID-19 testing, and volunteering at a hygiene center distributing food, clothes, and hygiene supplies to the homeless in Overtown. "After 12 years of medical training I would have never thought that one of the largest impacts I could have on society would be to make masks to help keep others safe," Dr. Echeverri wrote, "Here I am, using my surgical skills to create masks to keep my patients safe. And I'm proud of it. I'm proud that my hands can heal and create and sew and protect."
Dr. Echeverri has volunteered with multiple organizations, including Dade County Street Response and Dream Defenders. Currently, Dr. Echeverri works weekdays at an OBGYN private practice in South Miami and continues her charitable work on nights and weekends in organizing the collection and distribution of donations. 
"Currently, I have had to scale back as I am pregnant with a little girl (we're VERY excited about a future little Carollton girl after having two beautiful boys). I no longer conduct testing as Miami Dade has multiple, accessible testing sites available. I now focus on collecting hygiene products, masks, clothes and non perishable items for the homeless. My home has become a donation site for friends, family, patients, and even strangers who hear about our efforts." 
No matter the circumstances, dealing with expectant parents can be stressful. Dr. Echeverri wrote, "The most challenging thing I face at work is when things go wrong in pregnancy. No matter what stage the pregnancy is in, a loss is hard. Being the person to tell bad news to my patient is heartbreaking. Some of my patients try to keep it together and put forward a brave face, I have to remind them it's okay to mourn a loss. A baby, no matter if first or third trimester, is a baby, a hope, a dream. I mourn with them. It never gets easier." Especially during COVID-19, there is an added pressure for expectant parents, Dr. Echeverri attempts to calm her patients by assuring them that she will be delivering their baby whether she is on call that day or not.