This October, try reading some mystery books to get into the melodramatic fall mood!
Here are our mystery book recommendations:
Death On the Nile– Agatha Christie
Death on the Nile, by Agatha Christie is a mystery novel about a rich socialite, Linnet Ridgeway, who is murdered on her honeymoon cruise in Egypt's River Nile. Hercule Poirot, world-famous detective, is invited to the cruise after being commissioned to protect Linnet, but must now find out who killed her. The most obvious suspect is Jackie de Bellefort, Linnet's ex-best friend who has previously stalked and threatened the wealthy heiress, but Jackie has a perfect alibi. Since it seems everyone on the cruise was jealous of Linnet's perfect, glamorous life, Hercule Poirot must sift through each person's alibi and potential motive until the evidence reveals who the murderer is. The issue is that the longer Poirot takes in his investigation, the more people are murdered on the cruise. The fall season is the perfect time to read this novel since it is a cozy mystery, but is also set during the summer, so the weather matches Miami's.

About The Author: Agatha Christie, also known as the "Queen of Mystery," was born in England and studied vocals and piano in Paris. At 24 years old, she married colonel Archibald Christie and, after briefly serving as a nurse in World War I, she began writing. Her first novel, A Mysterious Affair at Styles, was the debut of Christie's most famous character, detective Hercule Poirot, who appears in the majority of Christie's novels. Christie's mysteries were incredibly successful almost immediately after their release, but she was unable to bask in the glory for too long. In 1926, after releasing one of her most famous novels, The Murder of Roger Ackroyd, Christie discovered that her husband was having an affair and that her mother had died. Shortly after learning of these two events, Christie mysteriously disappeared for 11 days, and was eventually found by the police at the Harrogate Hotel. Christie claimed to not remember what happened during the days she was missing, and most attributed this disappearance to either a bout of amnesia caused by a mental breakdown or a publicity stunt. Still, no one knows for certain what happened to Christie, meaning that the only unsolved Agatha Christie mystery is the one that happened in real life! After this event, Christie continued to write novels, married an archaeologist named Sir Max Mallowan, and died at age 86 after writing 66 novels and 14 short stories.
The Maidens – Alex Michaelides
The Maidens, by Alex Michaelides, is a murder mystery set in Cambridge University. The main character, Mariana Andros, is a wealthy group therapist who recently lost her husband in a swimming accident. Still processing her grief, she gets an unexpected call from her niece, Zoe, and discovers that Zoe's roomate at Cambridge has been murdered by an unknown perpetrator. Mariana immediately travels to Cambridge to support Zoe and begins to discover suspicious details surrounding the case. Tara, the girl who was murdered, was a student in Edward Fosca's Greek tragedy class, and also a member of his exclusive, all-female secret society, who call themselves the Maidens. As a therapist and expert problem solver, Mariana feels she is qualified to assist in solving the mystery and focuses on Fosca as her prime subject. As more disturbing details emerge about Fosca's shady dealings and inappropriate relationship with the Maiden, and more bodies are discovered, Mariana becomes convinced that he must be the killer, and stops at nothing to prove it. 
About the Author: Alex Michaelides was born in Cypress and studied English at Cambridge University (the setting of this novel!). He studied psychotherapy for three years, and this gave him the inspiration to write his first novel, a psychological thriller and mystery called The Silent Patient. His background in psychotherapy also influenced his writing in The Maidens, where the main character is a group therapist who applies her psychoanalysis skills to solving a murder mystery. Michaelides also writes and co-writes  scripts for films, including The Devil You Know  and The Con is On. Fun Fact: Alex Michaelides' favorite author as a child was Agatha Christie, and he says that reading her work at such a young age shaped his style of writing!
They Wish They Were Us – Jessica Goodman
They Wish They Were Us, by Jessica Goodman, is a novel about an exclusive society of friends in an elite private high school called Gold Coast Prep. The main character, Jill, is entering her senior year of high school as a member of the exclusive clique, who call themselves the Players. Having made it through the trials of initiation into the group in freshman year, and having survived in the group until senior year, she is excited to finally be at the top of the social ladder. Only one thing is disrupting her otherwise perfect life – upsetting text messages implying that her best friend's murder is still unsolved. At the end of her freshman year, on the night of Jill's initiation into the Players, Jill's best friend, Shaila Arnold, the most popular girl in her grade, was murdered. Shaila's boyfriend, Graham, confessed to the murder after a couple of weeks, but after investigating the clues provided in the text message, Jill is not so sure that he is the guilty party. Jill must decide whether to continue her senior year in peace and focus all her energy on being accepted into the college of her dreams, or dig deeper into who really murdered Shaila Arnold at the Players' initiation ceremony. Fun Fact: This book is currently being adapted into a movie that will star Sydney Sweeney and Halsey!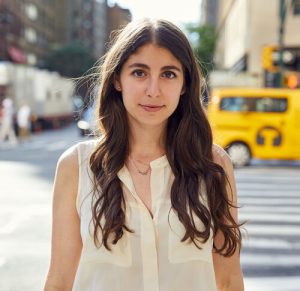 About the Author: Jessica Goodman, a former op-ed writer at Cosmopolitan magazine, now writes mystery thrillers for young adults. There is not much information about her on the internet, so I assume she prefers to keep her private life private!