In celebration of Women's History Month, Upper School Carrollton students were asked which women in history they admire the most. 
Students sent various replies, talking about their personal woman role models. They named many inspiring activists, scientists, religious figures, artists, writers, actresses, athletes, and models.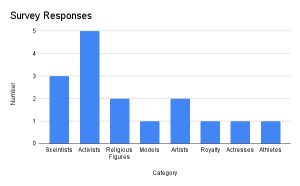 The most popular response was activists.  One student wrote, "I look up to Joan of Arc because she was able to uphold her values and true beliefs in the face of doubt, hatred, and persecution." 
Another wrote,  "I look up to Marie Curie because she was a Polish physicist and chemist and made major contributions to the scientific world." 
"I look up to Princess Diana of Wales, as she took on the role of royalty with poise and determination. She always carried herself with elegance, and showed constant confidence amid the pressure of joining the royal family. Diana was a beautiful woman who was pure, smart, and inspirational."
"I like Rosa Parks because she stood up for herself and her history"
"I look up to Ruth Bader Ginsburg for her fearlessness and dedication in fighting for women's rights," a student wrote
On March 7th, the Girl Up club hosted a panel discussion during the Upper School assembly which featured four influential women who discussed their careers. 
They were Wendy Holman, Barbara Lagoa, Lesley Mendoza, and Tina Menedez. The women spoke about their struggles as  women, why they chose their respective careers, and offered the students advice.
Wendy Holman is the CEO and cofounder of Ridgeback Biotherapeutics which develops medications to treat sickness that have limited treatment options. Barbara Lagoa is a judge on the United States Court of Appeals for the 11th Circuit. President Donald Trump nominated her for her seat on this court. Justice Lagoa was the first Hispanic woman appointed to the supreme court. Lesley Mendoza is the Executive director for the CABA pro bono legal services. She also works to educate the community on the services CABA provides. Tina Menedez is the vice president of education at the HistoryMiami Museum, she previously worked as a teacher and values education for all.