As the holiday season approaches and many are out in the community for shopping, gatherings and travel, it is important to always stay up to date with the latest safety tips. 
In the twenty-first century, sex-trafficking has become more prevalent and it is important that everyone knows how to properly protect themselves and ask for help if needed. 
For example, recently shared on TikTok, a teen was rescued because she used a specific hand signal that has become popular over TikTok as a call for help. The 16-year-old was in the back of a car and used the hand signal and a passing car noticed the signal from TikTok and notified the authorities. The man was soon arrested. In fact he had kidnapped the girl and taken her across multiple state lines. This signal, originally a sign to indicate domestic abuse, now has several other meanings – basically to communicate that you are trapped in some way. The hand signal itself is made by facing your palm outward, folding your thumb across your palm, and then closing your fingers over your thumb (and sometimes doing this repeatedly).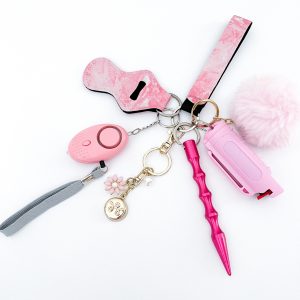 While hand signals are an excellent option in some cases, in other cases simple devices can be very effective. Recently, I have seen more of my friends with gadgets on their wallets and/or keys for protection. These include rape alarms, pepper spray, LED lights, and other self-defense tools which are now heavily advertised on social media. There are also apps for your phone which use GPS tracking such as "Life 360" and "Find My" which is resident on all Apple devices. Self-defense classes for women are becoming more popular. A few weeks ago the Miami-Dade Police Department held a series of classes for this specific purpose.  
Have you ever been concerned when going out with friends or on a date about your safety? 
Well now, several jewelry brands have got you covered.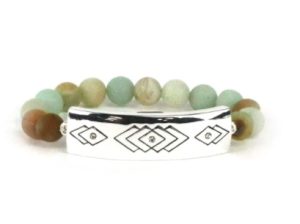 Meet Flare, a bracelet that helps you discreetly take control when needed. If you ever feel uncomfortable or unsafe when you are out, the Flare bracelet could help you exit the situation. You can either hold down the small button on your bracelet to send your family and friends your GPS location or simultaneously alert 911 with your location. Another cool feature of the bracelet is you can press the button once to trigger a fake call to your phone so you have an excuse to safely exit the situation.  

While there are many ways to mitigate against dangerous situations, it's best to always use common sense. Do not invite problems by avoiding unsafe environments, practicing the buddy system, making sure someone knows where you are at all times, checking in with family and friends and dressing appropriately.
Because in the end, "an ounce of prevention is worth a pound of cure."  – Benjamin Franklin