, Isabella Perez Compres '25 and Andrea Gianulis '25
In our very busy lives, too often we don't notice the people around us who do so much on a daily basis to make our lives better. Let's get to know Carrollton's housekeeping and maintenance team and give thanks for all they do for us.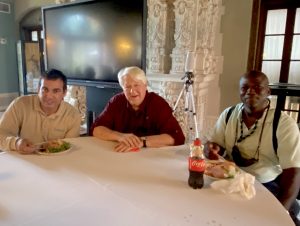 For the past 6 years, the housekeeping and maintenance department has held their own Thanksgiving lunch potluck. And this year, the department is treating the team to a traditional feast in the Benoit Living Room in El Jardin. Faustino Vega, Supervisor of the Maintenance and Housekeeping teams who helps host this event said, "This to give my department thanks for the hard work they do every day… and without them, the school will not look the way it looks now. 
Why is this important? Olga Marenco, who has worked in the housekeeping department at Carrollton for 16 years explains, "Porque es un dia que le damos gracias a dios por la bendición, por darnos nuestro alimento, y para estar unito con los compañeros. Somos una familia y como una familia estamos juntos." ("Because it is a day to give thanks to God for His many blessings and for giving us nourishment. It is also a day to be together with friends – we are a family and like a family we are always together.")  
Michelle Gutierrez who has only been working at Carrollton for two months already feels part of this family that Mrs. Marenco describes, "Son muy…abiertos como personas. Son welcoming … .si hay una falla o un problema tratamos de soportar." ("They (the maintenance staff) are… very open people. They are welcoming…if there is a problem (she says referring to when her colleagues have to miss work) we try to support them.")
Ana Fajardo, another long time employee shares, " Este es un dia para darle gracias por todo lo bueno … y también todo lo que no es bueno." ("This is a day to give thanks to God for everything that is good…and also for everything that is not good.") 
Let us give thanks to the many people who work hard to maintain our beautiful school.
Gene Singletary, Director of Facilities
Faustino Vega, Supervisor
Housekeeping
Ariadna Altamirano Zambrana
Ana Fajardo
Olga Marenco
Maria Antonieta Serrano
Janiett Tejada 
Claribel Torres 
Bethel Navarro 
Michelle Gutierrez 
Ligia Robleto 
Karen Jeanz
Maintenance
Thomas Wargo
Jerome Brown
Jullian Vassel
Daniel Santana 
Roberto Alfonso 
Mario Cardera
Yandi Romo 
Martin Sanchez