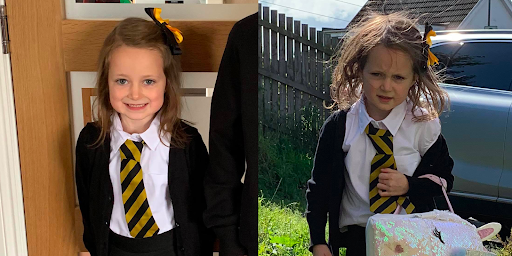 For us, the most important part of any day is "me-time," or self-care. After dragging yourself through the hallways during an exhausting day at school, the only thing we want to do is go home, crash on our beds, and fall asleep. However, setting aside time in your day to take care of yourself is just as important.
Experts say when you get home, you should do a "full body scan." Essentially, sit still for a second and try to pinpoint what is bothering you. Do you need a nap, a glass of water, or to go to the gym? We can't imagine ever wanting to exercise, but according to Mechi Stanham '26, soccer is just what she needs to bounce back after school. "Soccer wakes me up. It always makes me feel better," she told us. "I go to sleep feeling accomplished, and find myself sleeping better."
For us, prime relaxation includes taking a relaxing shower or making a snack. Whether you have sports or a club after school, or you just go straight home, the most important thing to do is set at least 30 minutes aside to yourself. This can just mean turning off your phone and going to talk to your mom about your day, doing your skincare, changing your clothes or even just making yourself a cup of tea. 
When Meredith has time, she believes that a steaming hot shower calms her nerves and washes away the anxieties of her day: "It detoxes my face and opens my pores. I apply a eucalyptus cleansing oil, and exfoliate with a lavender scrub." Aside from the pleasant aroma of flowers, lavender helps to regulate your limbic system and can lower your heart rate and anxiety, while evening your breathing rhythm. So if you're looking for a new stress reliever, try adding that step into your routine. It can also help you sleep better. Rest is the crucial piece of complete relaxation, and getting at least 8-10 hours of sleep each night is essential to staying focused and keeping yourself in a good mood.
But if you're not into long, intense, showers (or don't have time for them, like Ana) you can turn to food for a boost of energy. Try reaching for a juice or smoothie! The fruits and vegetables blended into a liquid help the nutrients absorb quickly, and hydrate you after a long day. But if you're not a juice person, Ana believes that your favorite treats can totally change your mood. Some of our personal recommendations include strawberries dipped in dark chocolate, avocado toast, or the cinnamon apple crumble from Trader Joe's. So basically, reward yourself for surviving school. 
Okay, once we're relaxed, the last thing we want to do is homework. But since we have to, we recommend tackling the necessities first–lock into survival mode, and do only what is due the next day. Procrastination can win here, but persevere and remember the sooner you get it done, the sooner you can scroll through Tiktok! Grab your comfiest desk chair, plug in your electronics to charge, open up your planner, and complete an assignment–give yourself a small win. Motivation tends to increase at this point, as when you achieve goals (even small ones) dopamine is released from your brain, which motivates you to start completing more tasks. In fact, research shows that by breaking down what you have to do into smaller tasks, you can enhance your mood immediately, as the assignment seems to become more manageable.
All of these things definitely help us, but the truth is, the stress is still there. So if it feels like you're walking a thin line between making your best effort or burning out, know this: you're not alone. Your stress is real, even if it doesn't always make sense to adults. There are a lot of things on the horizon, a lot of decisions to make, and paths to blaze. There's always conflict between  what you want to do and what you need to do, but this doesn't mean you have to sacrifice your mental health in the process. So take care of your mind, body, and soul because putting yourself first should always be the number one priority.