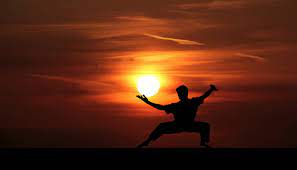 Have you ever gone home tired and upset after a difficult day at school and wondered if anyone else felt like you? Well, you may be surprised to find out that the answer is yes.
The University of Michigan did a study this year and found that "44% of students reported symptoms of depression" and "37% reported anxiety disorders." School indeed takes a toll on people's mental health, what with all the homework and exams. But there are ways you can help relieve this stress in your day-to-day life. One example is being part of a martial art. 
Martial arts is often seen as something from a movie, something fictional. It is true that the term was popularized in the 1960s and 70s with figures like Bruce Lee and movies like "Karate Kid." Even today, while many people watch shows and movies that promote Martial arts, only 28% of Americans actually study it. In fact, according to a recent survey of 87 upper school students at Carrollton only 2.3% of them actively study martial arts. 
When people think of martial arts, they tend to think only of the most commonly practiced types like karate and mixed martial arts (MMA). However, there are actually over 180 styles from all over the world, including lesser-known styles like bando which originated in Burma, bokator from Cambodia, and bataireacht from Ireland. 
Another unique martial art is Brazilian jiu jitsu. Sharella Lee '26, a 3-and-a-half-year martial artist, describes it as "the art of grappling. No punches or kicks. It focuses on chokes and arm bars." 
MMA is what I study. It is defined as a full body contact sport that involves grappling, striking, kicking, and groundwork, using a variation of styles and techniques from all around the world.
But martial arts is more than just fighting and action movies, and it can have real positive influences on an individual's mental health. 
According to Sensei Morgan Duzolgou of RDCA MMA in Key Biscayne, "a true martial artist knows that the physicality of punching and kicking is just the surface of the art." Duzolgou believes that martial arts equip people with skills that will assist them in every part of their lives.
So how do martial arts help improve people's mental health? Studying martial arts enables you to get better in tune with yourself. It gives you a safe space to meditate, sitting and moving, and explore your energies on the path of self-discovery. 
"It is therapeutic and you gain satisfaction when you perform your techniques correctly," said Lee.
In addition to helping you understand yourself, practicing something you love surrounded by people of all ages who love the same thing is such a special experience. Since the very first day I started at my dojo, I have felt at home in the room with the fluorescent lights and blue mat. I have made friends there that feel like family. I have become more focused, disciplined, and happy. It has become something I look forward to and something I love. 
Martial arts are sports that provide massive amounts of confidence when performed correctly, which can be achieved through hard work and resilience. When I first started to practice martial arts, I was insecure about my strength, or lack thereof, and my terrible coordination. But I was determined to succeed, even if it meant failing most of the time. Since then, I have been promoted 6 times and now rank as a green belt.
For me, confidence is also linked to feeling safe. When I know I can defend myself, I feel more confident to walk down the street without the fear that someone will attack me, and I will be defenseless. Being able to defend yourself and feel safe is important in your day-to-day life, especially for children and women of all ages. 
Sensei Derek Duzolgou of RDCA MMA in Key Biscayne said, "having the confidence of being able to protect yourself in such a situation is something I believe every woman should learn. The sooner the better; however, the beauty of martial arts is that they can be studied, practiced, and applied at almost any age. One is never too old to learn and improve."
I think that martial arts are something everyone should do at some point in their life. The amount of community, confidence, and security you get is incomparable. 
As Sensei Derek Duzologou put it: "These values are what can build a very strong foundation for a person from the inside out, preparing them for whatever they may face along the way."