Did you know that over 500,000,000 plastic straws are used everyday in the United States? In the past 20 years, people have come to expect plastic straws in every drink, and this is just one example of extreme waste being generated. These short-lived tools are usually dropped into a garbage can with no further thought, instantly becoming a source of plastic pollution. A recent study estimated as many as 8.3 billion plastic straws pollute the world's beaches with each one taking up to 200 years to decompose. Recently, companies have started making everyday disposable items that are harmful to our planet out of plant based material. Replacing plastic straws with biodegradable ones can reduce the amount of plastic in the environment dramatically.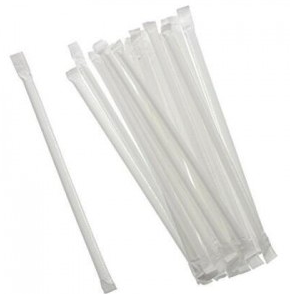 Eat it and plant it
Seed-degradable lollipops are one of the most popular biodegradable products on the market. 
Whenever you get lollipops from the candy store and doctor's office, did you ever think about what happens to the environment after you're done with it and throw the stick in the trash? Especially if it's made out of plastic. Amborella Organics came up with an amazing idea – "seed-degradable lollipops," also known as, "biodegradable lollipops." The stick is biodegradable with seeds embedded inside. So when you're finished, plant your stick in a pot or in the garden and see what you can grow.
You can purchase these lollipops at most candy stores or click HERE.
Not paste but it's no waste 
Another product that is eco-friendly is a toothpaste tablet. Unlike regular toothpaste with thick plastic packaging, with Unpaste, there's no waste!
When you first see this product you might ask, "isn't this just a mint?" But it's not. These minty little tablets are meant to be chewed up first, and then moistened with water from your toothbrush. They contain no superfluoyde dyes or preservatives, and they don't foam, but the clean feeling tends to last longer than a traditional toothpaste. And Unpaste's packaging is all recyclable and compostable, with no plastic hidden anywhere. 
You can purchase Unpaste here.
Glitter without the litter
Regular glitter is plastic and an environmental disaster. It is easily airborne and it gets all over the place. It isn't easily picked up and discarded. So where does it go? In the air, in the water and in the soil. Thanks to Glitter Revolution, there is now an environmentally friendly alternative, "biodegradable glitter."