and Sofia Barrera '25
After a brief hiatus, Off the Shelf is back with new book recommendations for Mother's Day and Asian and Pacific Islander heritage month. 
Here are our May Books:
Mother's Day
Mother's Day, celebrated on the second Sunday of every May, commemorates the sacrifices that mothers make for their children. People in the United States give gifts to and spend time with their mothers, grandmothers, and any other women who helped raise them on Mother's Day to show their gratitude. Mother's Day has already passed, but we think that this holiday is only a reminder of the gratitude that we should feel for our mothers throughout the whole year. To celebrate Mother's Day, Off the Shelf recommends books that explore the relationship between mother and child.
The Reading List– Sara Nisha Adams
The Reading List, by Sara Nisha Adams is a heartwarming story about two human beings connected by a love of storytelling. The two main protagonists, Mukesh and Aleisha, are both facing their own unique struggles when they stumble upon a short list of classic novels that saves them both from the darkness of their troubles. Mukesh, after losing his wife, lives alone and struggles to form a connection with his granddaughter, Pryra, who seemingly prefers to read rather than spend time with her grandfather. Simultaneously, local bookworm Aleisha faces serious mental conflicts and battles her anxiety. These two unlikely characters are able to enter a journey of acceptance through literature together. However, the list of novels is not as innocent as it may seem. The loss of Mukesh's wife helps him develop a stronger appreciation for motherhood, which makes this book perfect to commemorate Mother's Day.
About The Author: Sara Nisha Adams is a London-based writer and editor. The Indian-English author used inspiration from her own life while writing her hit novel The Reading List. Adams said she derived stories from her grandfather and used them as a basis for her own characters in the novel. The Reading List is Sara Adams' first novel (published in 2021).  
Before the coffee gets cold – Toshikazu
Before the coffee gets cold, by Toshikazu Kawaguchi, centers around a cozy, vintage, hidden cafe in the heart of Tokyo that has been serving coffee for over 100 years. It is rumored that this cafe allows customers to travel through time if they sit in a certain chair. This ability does not come without rules, though. Firstly, time travelers must sit in the same chair throughout the visit, meaning they cannot speak with people who are not at the cafe at the moment in time that they travel to. Secondly, any changes they make in the past/future will be undone when they return to the present. Thirdly, the chair is inhabited by a ghost who only moves once a day to go to the bathroom, meaning that time travelers must watch and wait until the moment arrives. Finally, people can only travel to the past if the waitress pours them a cup of coffee. They must drink all the coffee to return to the present, and if they do not drink it all before it gets cold, they will be stuck in the chair for all eternity, replacing the ghost who sits there. The book follows the journey of 4 time travelers: a woman who regrets not telling her boyfriend that she doesn't want to break up with him, a woman who wants to talk to her husband one last time before he succumbs to Alzheimer's disease, a girl who wants to reconnect with her estranged sister who died in a car crash, and a mother who knows that she will die in childbirth and wants to talk to the child she will never hold. It addresses how people deal with grief and seek closure, how hope can give people bravery in awful situations, and the importance of living life without regrets. This book is perfect for Mother's Day, as one of the most impactful parts of the story is when Kei, a woman who has found out that she will die in childbirth if she does not terminate her pregnancy, travels to the future to visit the child she will die giving birth to.
About the Author: Toshikazu Kawaguchi was born in Osaka, Japan. Before he started writing novels, he worked as a playwright, winning multiple awards in Japan. Then, he adapted one of his plays into a novel, which became the starting point for Before the coffee gets cold.
Where'd You Go, Bernadette?– Maria Semple
You Go Bernadette, by Maria Semple, is a novel about Bernadette Fox's mysterious disappearance through the point of view of her daughter, Bee Branch, who is trying to find her whereabouts.  Bernadette Fox used to have a successful career as an architect, but developed crippling agoraphobia and barely leaves the house. The neighbors and school moms treat Bernadette with disdain because of her agoraphobia, but this does not damage Bee's opinion of her mother, as she and Bernadette are best friends. Bee's parents promise her that if she got straight A's on her 8th grade end of the year report card, they will take her on a trip to anywhere she wants. Bee chooses Antarctica as her desired destination, and both her parents reluctantly agree. Since Bernadette already experienced anxiety from her everyday surroundings in Seattle, the prospect of planning this trip pushes her to the edge of a breakdown. Bernadette even hires a virtual assistant in India to run her errands and organize the trip. One day, Bernadette disappears mysteriously, and Bee is left to put together emails, official documents, and secret communications to try and figure out where her mother escaped to and why she did.
Shout Out to the Librarians: This book is available to check out from the Carrollton Library! If you want to read the book but don't want to commit to buying it, just ask Ms. Dugarte or Ms. Albornoz for help finding it.
Fun Fact: This book has been adapted into a movie starring Cate Blanchett as Bernadette, and it is available to watch on Hulu.
This book also doubles as a book for Asian and Pacific Islander heritage month since Toshikazu Kawaguchi originally wrote this book in Japanese, and it is available for English-speakers to read in translation.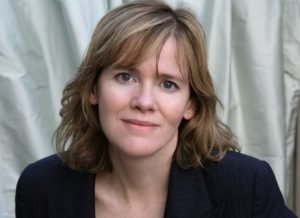 About the Author: Maria Semple was born in Santa Monica, California and has spent the majority of her life writing and traveling the world. After majoring in English at Barnard in New York City, she started writing fiction which earned her great praise. In addition to being a novelist, Maria is also a screenwriter who has worked for Saturday Night Live and The Ellen Show.  Semple is also the author of  bestselling books Today Will Be Different and This One is Mine.

Asian and Pacific Islander Heritage Month
Asian and Pacific Islander Heritage Month has been celebrated every May since 1990. This yearly event is dedicated to honoring achievements made by the 22.9 million people in the United States who are of Asian and Pacific Islander descent. During this month, we recognize medical, artistic, and literary advancements made by Asians and Pacific Islanders. AAPI citizens have faced great discrimination in the United States, especially since the COVID outbreak which has caused awful racial prejudice against them. This year, we have chosen two stories by talented authors of AAPI descent to honor their contribution to the literary world. 
The Memory Police– Yōko Ogawa
The Memory Police, by Yōko Ogawa, tells the story of an unnamed island in which random objects disappear without warning, taking with them the memories and feelings associated with them. These disappearances are enforced by the Memory Police, who hold absolute power over the island's inhabitants, confiscating any traces of the items which the islanders have forgotten. The book's unnamed protagonist and narrator, an author, was raised by her mother, a sculptor who had the ability to remember things which disappeared, and her father, an ornithologist who died before the birds disappeared. As objects like birds, roses, perfume, the ferry, maps, and hats continue to disappear, the protagonist's mother keeps forgotten treasures hidden. Eventually, the narrator's mother is taken by the Memory Police and disappears. The narrator continues to write novels, most of which deal with disappearances, but she struggles to maintain her career since the island's inhabitants no longer read books. When the narrator discovers that her editor, a man called R, has her mother's ability to remember things which disappeared, she helps him hide from the Memory Police in a secret basement in her house. She decides to protect her editor and preserve the things which have been forgotten through her writing, but struggles with the ever-increasing disappearances which make her life more and more meaningless. 
Shout Out to the Librarians: The Carrollton Library also has this book available to check out. Ask the librarians for help finding it!
About the Author: Yōko Ogawa was born in Okayama, Japan, and grew up in a home which her father used as a temple for followers of the Konkōkyō sect of the Shinto religion. She has said in multiple interviews that being brought up in a temple helped her to observe the subtleties of human behavior, as the people who came and went were all different and were searching for a community. Ogawa read The Diary of Anne Frank as a teenager, and she said that this story is what inspired her to become a writer, teaching her that she, like Anne, could express her feelings through writing. Her experience with The Diary of Anne Frank is part of why most of Ogawa's books are set in enclosed spaces, like basements or hospital rooms. Ogawa has written bestselling books which have been translated into multiple languages, and has won every major Japanese literary award. Internationally, she has won the Shirley Jackson Award and the American Book Award, and was shortlisted for the International Booker Prize.
Kim Jiyoung, Born 1982 – Cho Nam-Joo
Kim Jiyoung, Born 1982, by Cho Nam-joo, tells the story of a woman named Kim Jiyoung, who struggles to navigate life in her 30s as a woman in South Korea, which is still very misogynistic. The story opens with Jiyoung suffering from psychosis. Her husband, Daehyun, and her 3-year-old daughter, Jiwon, watch as Jiyoung begins to speak and act like various women she has met. Jiyoung acts as if she has been possessed by her mother, her college friend, and others. After describing Jiyoung's outbursts, the book takes us on a journey into her past to reveal what drove her to a mental breakdown. Throughout Jiyoung's childhood, she was treated as lesser than her male counterparts. Her mother was ashamed of giving birth to a girl instead of a boy, her younger brother was always more important than she, and her teachers at school would treat girls inappropriately. As Jiyoung grew up, these incidents only worsened. Jiyoung's male colleagues got better jobs than her with less qualifications, sexual misconduct was tolerated in her workplace, and eventually, Jiyoung's husband encouraged her to quit her job to take care of their child. The book describes more and more incidents of gender-related discrimination, which exacerbate Jiyoung's mental troubles and eventually tip her over the edge of santiy. As Jiyoung is the most common name for girls in South Korea, the character of Jiyoung is meant to represent every woman who has to face these injustices in their lives. 
Fun Fact: This book was adapted to a movie in Korean, and it is available to watch with English subtitles. You can find the trailer on YouTube by clicking the link below. https://www.youtube.com/watch?v=Nbjks9yrtcY&t=5s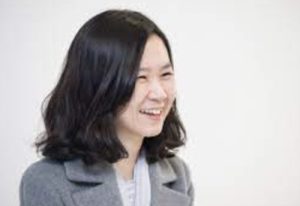 About the Author: Cho Nam-Joo was born in Seoul, South Korea, and graduated from the Department of Sociology of Ewha Women's University. She wrote television scripts for many years, but just like Kim Jiyoung, she felt pressured to quit her job after having a child. Eventually, she started working again as an author. Cho Nam-Joo said that she wrote this novel in a matter of months since it was based on her personal experience as a woman in South Korea. Her novel became very controversial after it sparked the Korean #MeToo movement in 2018.