Black History Month was celebrated throughout Carrollton to inform students about African-American culture and history
"I hope our community continues to learn, advocate, and celebrate Black History not just in February, but all year round." – Alexandra Dugarte and Melinee Fernandez, Carrollton Librarians 
Black History Month was established in 1970 to highlight the achievements of Black people in the United States and recognizes all Black people throughout American history, from the earliest enslaved individuals in the 17th century to African Americans in the U.S. today.

Carrollton School Libraries celebrated Black History Month with events and opportunities for learning. Librarians Melinee Fernandez and Alexandra Dugarte taught a unit to the Primary students about Dr. Martin Luther King Jr. Students' poetry projects about Langston Hughes and Ashley Bryan's book Sail Away were posted on social media.
A 200-book collection was created for students to explore on the ebook platform, "SORA" and a collection of books and websites were created for faculty to use in their classrooms. In addition, there were book displays that Fernandez and Dugarte called, "windows and mirrors" that they describe as: "A mirror that reflects you, books can be mirrors that reflect things you know and experience. Just like a window lets you see outside, a window book lets you learn about something outside of your life and experience[s]." Dugarte and Fernandez recognize the importance of Black History Month and the achievements of Black people despite America's unfortunate past and present history of social injustice. They believe that Black History Month "is crucial to understand, address, and learn about the Black experience [and] the beauty and strength of their culture and achievements throughout history." Educating the Carrollton community about Black History helps to overcome stigmas and misconceptions. Authors from various backgrounds are housed in the library collections, guaranteeing inclusion and representation.

In the Junior High and Upper School, Black History Month was commemorated with a complete exhibition of literature ranging from fiction to nonfiction, autobiographies, and graphic novels. Signs were placed so that students and visitors could learn more about the significance of Black History Month. Additionally, there was a digital library that included a resource list on databases FactCite and JSTOR that emphasized essential Black History knowledge and sources. The Upper School's Black Student Union hosted their annual "Blackout Week." Blackout Week included several different activities including presentations, panels, and the highly anticipated "cookout" food sale. Topics of medical malpractice, the history of Black people within the medical field, and the achievements of black people were presented to the Upper School students, faculty, and staff.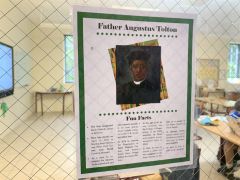 Lexi P., teen author of Curly Girls Love Your Curls and CEO of a natural hair care business Curlanista, spoke to both the Intermediate and Primary school communities about her path of self-love and gaining confidence.