Upper School art students, working both inside and outside of the classroom, make a great  impact on our daily lives by creating art which is displayed around the school.
Several times a year, the Upper School art department puts up a fabulous student art show throughout the gallery and walls of the Barry Building – which is more important to the community than perhaps many realize. These sculptures, collages, paintings, and sketches represent months of thought, creativity, and hard work.  Many are beautiful images which inspire us to reflect on God's gifts to us, and others are more social justice themed, allowing students to express their thoughts through impactful visuals.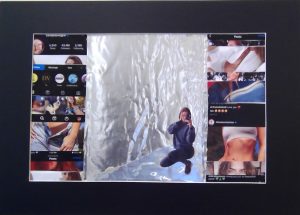 Saramelia Lopez '24, said that she "tr[ies] to understand the meaning" of certain art pieces on the wall, which is one of the goals of these expressive displays of talent. According to Ms. Hanson, an Upper School art teacher, "art is a vehicle for research and for understanding. It's a way for you to explore the world and even overcomes language barriers." Take, for example, the art piece, BLM, created by Ava Hornbacher '23, which is the "fist of justice" located in the east stairwell. The fist is made of newspaper clippings that talk about the racism and injustices Black people face with things like police brutality and the wage gap. The sculpture is a commentary about racial inequities and oppression in the United States. Another art piece, Divine Punishment, was created by Carrollton alumnae Cecilia Izquierdo '21 and Kayla Novas '21, and is a collage of pictures from social media posts depicting the unrealistic expectations of what women should look and act like. This piece hangs above the tables where students pick up hot lunch, giving them a moment to reflect on its meaning while waiting in line for food. 
Art can inspire introspection, and is an established therapeutic tool. According to Andrea Gianulis '25, "it's important for students to have a coping mechanism to deal with stress… A lot of students use art as that coping mechanism and that's why …  it's so important for schools to display their art." Many pieces of art on the walls are reflections of the artists' inner feelings, and students who pass by the art on their way to class can take a moment to analyze the intense emotions which are depicted. 
In addition to providing a vehicle for student artists to express their feelings, it also showcases students' understanding  of the elements and principles of design learned in class. Ms. Hanson told the Carrollton Post that art "can be taught," and that students at Carrollton learn how to "deconstruct an image, to see how it's put together, see relationships, positive negative space, composition." This instruction aids students in developing their personal art styles and creating works that are more technically sound.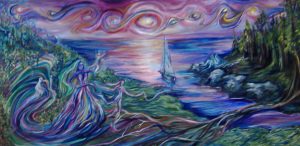 "I acknowledge and understand the extreme potential of some of the artists who are Carrollton students! I am absolutely blown away at some of the artwork and honestly believe some of them deserve to be in a museum." said Daniella Milton '23. Claudia Oses '25 remarked that her favorite art piece is Cycle of Life  by Lauren Russler '22, saying that she "enjoy[s] the colors, position, and the movement in the piece," and that the "scale is also impressive."