Are you ready to get back on an airplane?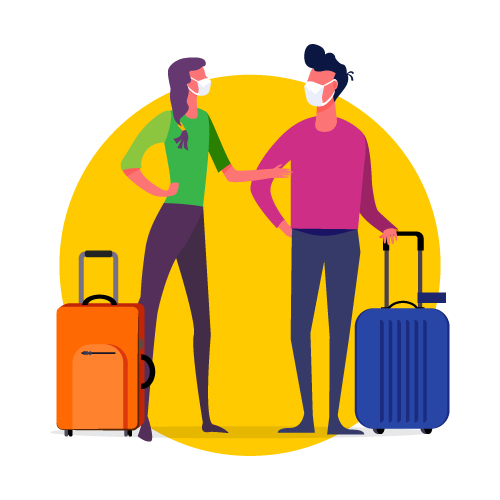 /p>
How summer vacations might look like this year – post COVID vaccine
Because of the pandemic, last summer's vacationing to different destinations was out of the picture. Many hotels and restaurants were closed and there were travel restrictions worldwide.
Based on a survey sent to the Upper School student community, about 76.6% responded that they are going on vacation this summer. Of that, 48.9% will be flying domestically and 36.2% overseas. Interestingly enough, 27.7% of Upper School students have been fully vaccinated and 2.1% are scheduled for their second dose.
Last summer, vacations changed for everyone. Many opted for staycations or going to places they can drive to, not wanting to risk potential exposure to the virus on airplanes or in public areas.
Some Carrollton community members have already begun traveling inside the US and Caribbean, sharing their experiences.
"It was extremely strange to travel and see so many people in a group setting at the airport. I could even say that I was anxious because many are irresponsible not covering their noses when wearing masks," wrote Annabella Garcia '23.
"At first it was so strange to get back on an airplane after so long, with extra seats and rows open, the airport seemed like a ghost town. On top of all of that we're forced to wear our masks throughout the whole duration of the flight," wrote Alina Espino '23.
Students in the Carrollton Community look at the positive aspect of COVID-19 restrictions. 
"My personal experience of limited travel during the pandemic has made me really appreciate the beauty that surrounds me at home and time with my family," Annabella Garcia '23
Rudy Dunlap, an expert on tourism and associate professor at Middle Tennessee State University wrote, "Even in destinations where vaccination is relatively widespread, mask-wearing, social distancing, and frequent sanitizing will continue to be the norm."
Many overseas destinations now require a negative COVID 19 test or proof of vaccination for entry into the country, but most Americans are confining their summer travel to domestic destinations. The Department of State strongly recommends US citizens reconsider all travel abroad, at least 34 out of about 200 countries were already listed as Level 4: Do Not Travel.
Although Europe is looking into letting US citizens in once more, it is still questionable whether or not visitors must be fully vaccinated or will only need to provide a negative PCR test or proof of immunity to a recent recovery of COVID. As of April 27, 2021, President of the European Commission, Ursula von der Leyen wrote, "The Americans, as far as I can see, use European Medicines Agency-approved vaccines, this will enable free movement and travel to the European Union. All 27 member states will accept, unconditionally, all those who are vaccinated with vaccines that are approved by EMA."
After more than a year of quarantining and travel restrictions people are anxious to travel. Thankfully many countries around the world are following strict COVID protocol which allows families to enjoy their COVID friendly vacations.